Welcome to my website. This is a work in progress so please be sure to check back often!
Hi!  My name is Julie Drzewiecki.  I am the daughter of Joseph and Verna Drzewiecki, the best Mom and Dad in the world!  My parents provided me with 4 brothers and 3 sisters.  My siblings, in turn, provided my parents with 11 granddaughters and 6 grandsons.  The grandchildren are starting to have families, so the tally is 20 great grandchildren and counting!  I am lucky to have lots of aunts, uncles, and cousins, too.  All of my family is very proud of our Polish Heritage.

Mom and Dad with their favorite people – Their Grandchildren!
I am married to Adam Martin.  Every day of my marriage he has made me laugh with his crazy sense of humor.  Adam is a Physicist.  A happy consequence of having a Physicist Husband is that I am regularly treated to information on how the universe works…like when he points at the sky and gives a scientific explanation why it is blue.  Despite his stubbornness, selective hearing, and snoring, I can't resist his charm and will love him always.  Why?  I inadvertently read a note he gave to my father, shortly before Dad died.  It read, "Don't worry, Joe, I will love and take care of Julie forever!"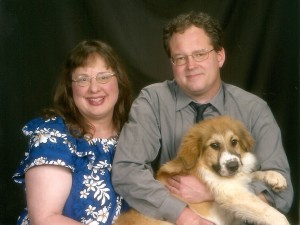 JULIE, ADAM, AND NAUGHTY BASIA
I am a Registered Dietitian, working at a rural hospital in Guntersville, Alabama.  I call myself "The Storytelling Nutritionist" on this website.   Coach K, from Duke University, was the inspiration behind this.  His great wisdom is as follows:
"People remember stories and examples better than words."
Coach Mike Krzyzewski -The winningest coach in mens college basketball and Polish American